Coverage
The winners of the European Heritage Awards / Europa Nostra Awards 2021 received extensive media coverage all over Europe. At least 321 articles were posted online, printed or broadcast across 21 countries in 2021 (overview of media articles).
Selection of articles on the Awards 2021 released by leading media outlets in various countries:
▪ Belgium's national TV station RTBF and national daily newspaper Het Laatste Nieuws;
▪ Bulgaria's national TV station Nova TV, national radio stations BNR and Darik Radio, and national daily newspapers 24 Chasa and Standart News;
▪ Cyprus' national daily newspapers Kathimerini and Politis;
▪ Denmark's national daily newspapers Berlingske and Politiken;
▪ Georgia's national TV station 1 TV and national news agencies GHN and Inter Press News;
▪ Germany's national broadcaster Deutsche Welle and national weekly newspaper Die Zeit;
▪ Greece's national TV station ERT, national daily newspapers Kathimerini and TA NEA, and weekly newspaper Proto Thema;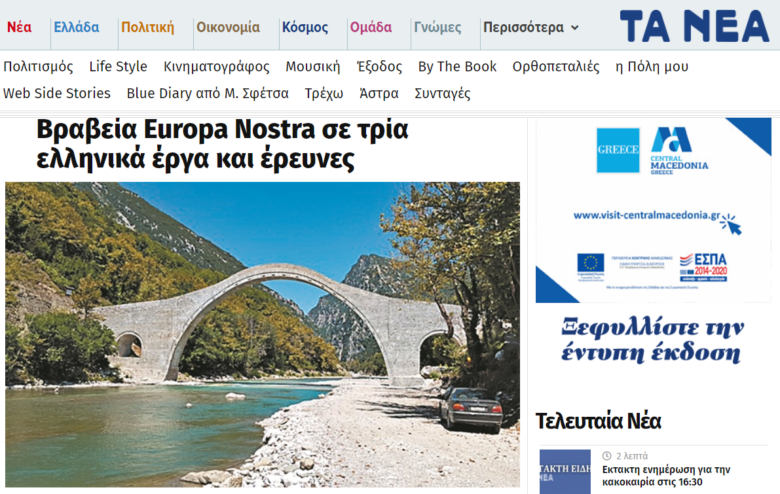 ▪ Ireland's national TV station RTÉ and national daily newspaper The Irish Times;
▪ Italy's national TV station RAI and national news agency ANSA;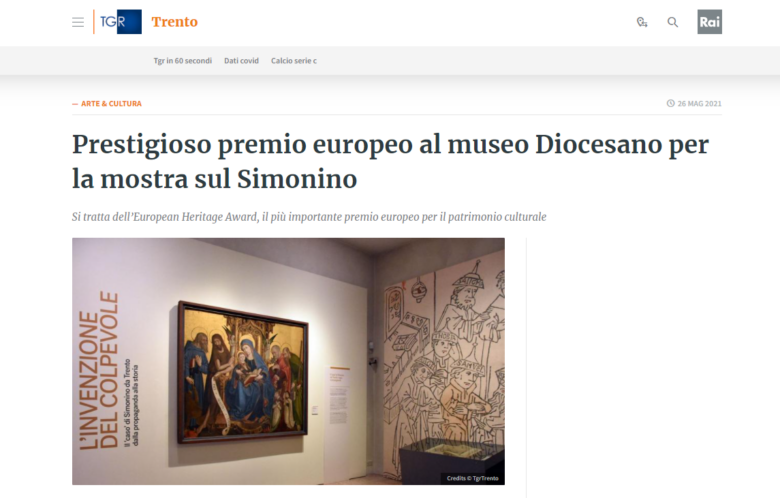 ▪ Portugal's national TV station RTP, national radio stations Antena 3, Rádio Renascença and TSF, national daily newspaper Público and national news weekly magazine Visão;
▪ Romania's national radio TV stations PRO TV and TVR, national radio station Europa FM, international radio stations Radio Romania International and RFI Romania, national daily newspaper Adevarul, specialised magazine National Geographic and national news agency Agerpres;

▪ Serbia's national TV station N1, national daily newspapers Danas and Politika, and national news agency Beta;
and
▪ Spain's national radio station RNE, national daily newspaper ABC and national news agency EFE.
Romania (101 pieces) and Italy (62 pieces) had the highest levels of media coverage, followed by Greece (26 pieces), Bulgaria (24 pieces) and Portugal (21 pieces).
The winners, the Grand Prix laureates, the Public Choice Award winner, the ILUCIDARE Special Prizes and the European Heritage Awards Ceremony were reported primarily by online newspapers and magazines (272 pieces). Website articles were followed by broadcast articles (27 pieces) and printed articles (22 pieces).
The peaks of media coverage, with 182 articles in May and 99 articles in September, coincided with the announcement of the 24 winners of the Awards and with the announcement of the top winners, respectively.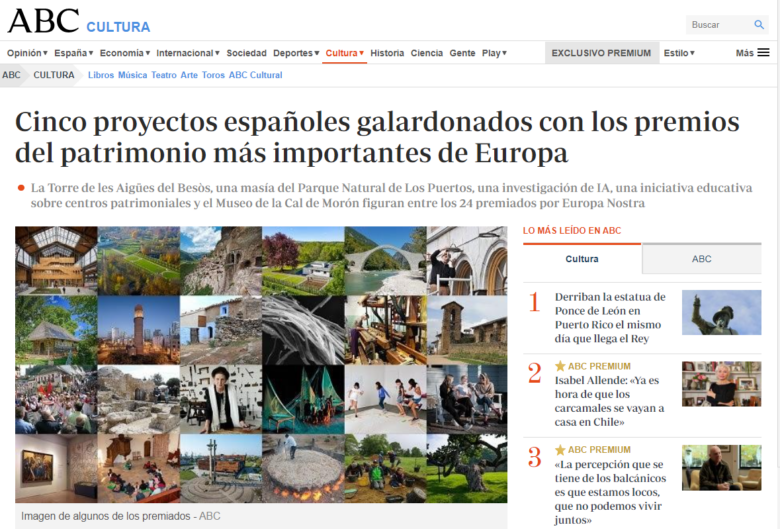 Regarding the main theme of each article, Laureates & Countries occupied the first position (195 pieces) and Ceremony & Results (85 pieces) occupied the second position. They were followed by Local Award Ceremony (18 pieces), Summit & Awards (11 pieces), ILUCIDARE & Awards (7 articles) and Public Choice Award (5 pieces).
Although national media tended to put the spotlight on national winners, many articles also referred to the winners from other countries. Some 187 news items had an important European Dimension.